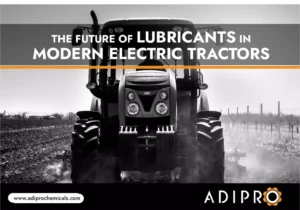 The Future of Lubricants in Modern Electric Tractors
Modern electric tractors are at the forefront of sustainable farming practices, driven by the silent revolution of electric propulsion. These cutting-edge machines are not only transforming agriculture but also redefining the role of lubricants, thanks in part to Adipro lubricant additives.
In this new era of farming, Adipro lubricant additives take center stage, revolutionizing the way electric tractors are lubricated. Adipro Tractor Oil additives are designed specifically to meet the unique needs of electric tractor systems, ensuring they operate at peak efficiency while minimizing wear and extending the lifespan of critical components.
1. Silent Revolution: Going Electric
Electric tractors are becoming increasingly popular due to their sustainability and reduced environmental impact. They are powered by electric motors and rely on rechargeable batteries or other energy sources like solar panels. As a result, they generate significantly less noise and emit zero tailpipe emissions, making them an environmentally friendly choice for farmers.
2. Lubrication in Electric Tractors
While electric tractors eliminate the need for lubrication in internal combustion engines, they still require lubrication in various components, albeit to a lesser extent. Here's how lubricants play a crucial role in these cutting-edge machines:
a. Electric Motors: The electric motors in modern tractors need lubrication to reduce friction and heat. Specialized electric motor oils are used to ensure smooth and efficient operation.
b. Bearings and Gears: Bearings and gears in the transmission and drivetrain require appropriate lubrication to reduce wear and prolong their lifespan. Lubricants in electric tractors help maintain the efficiency of these components.
c. Battery Cooling Systems: Electric tractors often come equipped with advanced cooling systems to regulate the temperature of the batteries. Lubricants are essential for the proper functioning of these systems, ensuring that the batteries remain at their optimal temperature.
3. Challenges and Opportunities
Electric tractors come with unique lubrication challenges. Unlike traditional tractors, which use engine oil and transmission fluids extensively, electric tractors rely on specific lubricants designed for electric systems. These lubricants need to excel in thermal management, efficiency, and longevity to meet the demands of modern agriculture.
4. Sustainable Lubrication Practice
With the agricultural industry's increasing focus on sustainability, lubricant manufacturers are developing environmentally friendly options for electric tractors. These include biodegradable lubricants and those made from renewable resources, aligning with the overall eco-friendly goals of electric farming equipment.
5. Regular Maintenance
Proper lubrication is crucial to ensure the long-term reliability and performance of electric tractors. Regular maintenance, including checking lubricant levels and changing them as needed, is vital to keep these modern machines operating efficiently.
In conclusion, Adipro Lubricant Additives not only address the lubrication challenges posed by electric tractors but also epitomizes the commitment to sustainability. It embodies the spirit of eco-friendliness with biodegradable and renewable-resource-based formulations, aligning seamlessly with the green goals of modern agriculture.
As we embrace electric tractors and their promise of a sustainable farming future, it's crucial to remember that the pioneering role of Adipro Lubricant Additives set a new standard for lubrication in the agricultural industry. By ensuring these machines run smoothly, efficiently, and sustainably, Adipro takes its place as an indispensable component in the exciting journey of electric farming technology.